Control de Sangrados España. STOPTHEBLEED BCon Basic by TACMED España
Enlace Directo al Programa
Control de Sangrados España. STOPTHEBLEED BCon Basic by TECC España
Control de Sangrados España. STOPTHEBLEED BCon Basic by TACMED España
El instructor Félix Carmona pone el dedo en la llaga y nos habla de una costumbre que nuestras FCS y FCSE deben adoptar: el material sanitario policial.
GUIA DE SOPORTE VITAL EN INCIDENTES CON AMENAZA ELEVADA PARA PRIMER INTERVINIENTE POLICIAL by Juan Jose Pajuelo. España 2017
El objetivo de estas Guías no es otro que resumir de manera breve y concisa los pasos ideales (en ocasiones lo ideal no es lo real) para una valoración y manejo iniciales de las principales causa de muerte evitable, hasta la llegada de los Servicios de Emergencia, en los compañeros o ciudadanos heridos.
Se pretende que estas Guías aborden la asistencia inicial, en el contexto de una intervención o incidente donde exista un alto nivel de amenaza, en el que se vean involucrados los "policías de a pie", puesto que ha quedado demostrado que son los primeros (y en ocasiones los únicos) en abordar inicialmente tanto al incidente en sí mismo, como a las víctimas si se han producido.
Un incidente con alto nivel de amenaza no se limita a sucesos como atentados terroristas con múltiples víctimas, si no que contempla también otro tipo de circunstancias como incidentes con individuos armados y/o, aglomeraciones populares con individuos violentos.
Toman como referencia las Directrices para Primeros Intervinientes con la Obligación de Asistir (First Responders with a Duty to Act) del Comité del Tactical Emergency Casualty Care que, al igual que estas Guías, son meras recomendaciones y no protocolos rígidos que deben adaptarse a la legislación vigente y, a las especificidades de cada Institución/Servicio/Organismo.
Con independencia de lo mencionado anteriormente, tienen como objetivo final estandarizar un lenguaje y unas actuaciones a nivel nacional dado que, están basadas en la evidencia científica "in vivo" y, en las lecciones aprendidas de muchos profesionales nacionales e internacionales. Estas recomendaciones/guías, no sustituirán el buen juicio clínico.
Por lo tanto, se espera que las recomendaciones que se presentan a continuación sirvan de ayuda para todo aquél personal policial que se pueda ver involucrado en un incidente con un nivel de amenaza elevado, a la hora de enfrentarse al manejo de las principales causas de muerte evitable que se producen en actuaciones con un alto nivel de amenaza.
GUIA PARA LE MANEJO DE HERIDOS EN INCIDENTES
INTENCIONADOS CON MULTIPLES VICTIMAS Y TIRADORES ACTIVOS
GUIA M.A.C.T.A.C. Actualizacion 2017


Tamaño del archivo en PDF Gratis
2.34 MB
21 Paginas
Viendo lo que está sucediendo en estos países más avanzados, podemos hacernos una idea de lo que nos podremos encontrar en Europa en unos años. Por eso, no es raro ver en el cinturón de un agente de policía americano, un torniquete o un kit de primeros auxilios, para heridas de armas de fuego, en el chaleco antibalas interior.
En la actualidad existen cursos para el uso y manejo de estos materiales. Yo hice el año pasado el curso LEFR-TCC (Law Enforcement and First Response Tactical Casualty Care), el cual recomiendo a todo el mundo. En este curso se adquieren las nociones necesarias para el uso y aplicación de los materiales que se exponen en este artículo.
Es un curso que no deja a nadie indiferente, además de dar un punto de vista nuevo y totalmente distinto de lo que es un enfrentamiento armado, en el cual puedes resultar herido de bala, cosa que la mayoría de las veces no lo tenemos en cuenta. Por supuesto, quien lo imparte es un profesional del ejército español, altamente cualificado, con misiones de rescate en zona de conflicto a sus espaldas y llegando a ser, junto a su equipo, los terceros del mundo en el uso y aplicación de estos materiales y extracción de heridos. Creo que decir que es un gran profesional con mucha experiencia, es quedarse corto.
El primer beneficiario del uso de este material vas a ser tú, luego tu compañero y, por último, la ciudadanía. No se puede descartar que, estando de servicio, te llamen a una urgencia por alguien que se está desangrando o algo parecido. Puede pasar.
Pasemos a describir los materiales y usos para los cuales están diseñados: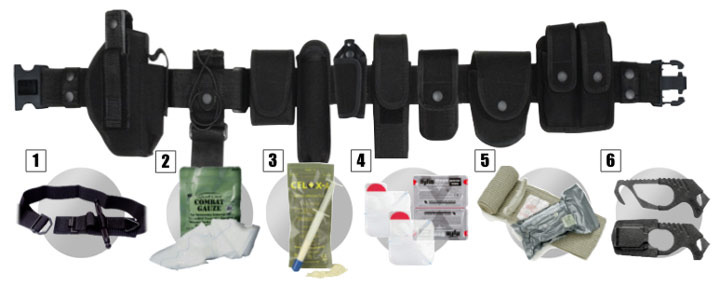 1) TORNIQUETES
Unos de los medios más usados con heridas hemorrágicas graves es un torniquete. La hemorragia es la causa más importante de muerte en combate. Una bala puede seccionar una arteria y el hecho de morir desangrado es cuestión de minutos, por no decir de segundos.

Se recomienda aplicarlo en la parte superior de las extremidades, ya que existe un solo hueso y la artería deja de sangrar haciendo presión contra él. Se puede cortar una 80% de hemorragia apretando fuertemente el torniquete y el resto con la barra de presión.
Existen varios tipos de torniquetes, unos son más rápidos, otros son sofisticados, pero el consejo que doy es que, a la hora de comprar uno, hay que decantarse por los que hayan sido probados en combate y con éxito. Por lo tanto, sería muy útil ver qué llevan los norteamericanos en su dotación, ya que están presentes en conflictos armados. Seguro que el material es fiable y lo han usado alguna vez con buenos resultados.
Los torniquetes que suelen llevar las tropas son el CAT (Combat Application Tourniquet) y el SOFT Tourniquet (Special Operations Forces Tourniquet):

El torniquete CAT está hecho de materiales ligeros y resistentes, lo que permite contener la hemorragia de la extremidad dañada sin problemas. Según tengo entendido, la marca que lo fabrica asegura sólo un uso del mismo. Además, éste es del que más copias chinas hay extendido. Si un torniquete no te cuesta más de 25 o 28 euros en adelante, no te fíes. Ten cuidado con las copias baratas. Te puede costar la vida.
El torniquete SOFT se encuentra realizado según los consejos de las Fuerzas de Operaciones Especiales Norteamericanas, las cuales querían un torniquete robusto y reutilizable. Por ello, la barra que posee para girar y apretar la cinta de contención de la hemorragia es de aluminio, por lo que el conjunto en sí pesa algo más que el torniquete CAT. Además, es mucho más fácil de colocar a otra persona, gracias a su clip de apertura. Aunque sea reutilizable, sería conveniente no darle más de un uso, por si acaso.
Si tuviera que decidir con cual de los dos me quedo, elegiría el SOFT, pero cada uno puede elegir el que más le convenga.
2) GASA DE COMBATE
La gasa de combate o "Combat Gauze" es un material "hemostático": esto significa que sirve para parar una hemorragia. Este material ha sido probado por el Instituto del Ejército de los Estados Unidos para la Investigación Quirúrgica (USAISR), el Centro Naval de Investigación Médica (NMRC) y el Comité de Cuidados de los Heridos en Entornos Tácticos y de Combate (TACC).
Este material está de dotación en el Ejército de los Estados Unidos, la Marina, la Fuerza Aérea, el Cuerpo de Marines y los Guardacostas. Creo que el hecho de que lo lleve este gente ya es sinónimo de garantía y fiabilidad. El producto se compone de una gasa que va impregnada en un agente hemostático llamado "caolín". Es un mineral inorgánico natural derivado de la arcilla. No tiene reacciones alérgicas y tampoco reacciones exotérmicas (que produzcan quemazón o irritaciones en la herida).
Se caracteriza por tener una banda azulada en toda la venda. Esta banda es "radiológica", es decir, se puede ver en una radiografía. Esto facilita su localización, en caso de que se olvide algún trozo en el cuerpo.
Si la herida no sangra abundantemente, se puede usar en vez del torniquete. Lo malo es que es muy "invasiva" (hay que meterla con los dedos en el interior de la herida) y eso debe ser muy doloroso, aunque si la vida está en juego, es un mal menor.
El mejor uso que se le puede dar es en las heridas de unión de partes del cuerpo (axilas, ingles y cuello), ya que en esos sitios no se puede colocar un torniquete. A la hora de introducir el vendaje en la herida, se debe hacer de dentro hacia fuera y, conforme vamos subiendo, de derecha a izquierda. Así no nos dejaremos ningún hueco sin tapar. Luego, cuando ya tengamos la herida "empaquetada", la presionaremos (más o menos durante 5 minutos) para contener la hemorragia.
Por supuesto, hay mucho material de este tipo de otras marcas, como puede ser el ChitoGauze o el Celox Rapid Gauze, que realizan la misma función.
3) CELOX
Este nombre corresponde a una marca comercial y es con la cual nos referimos al hemostático que viene en gránulos. Por supuesto, está de dotación en el Ejército Norteamericano y en muchos ejércitos de la OTAN, lo cual da fe de su extendido uso. También puede ser adquirido por particulares para ir a la montaña, deportes de riesgo, ir en bici por el monte o, simplemente, por seguridad. Nunca se sabe.
Funciona de la siguiente manera: los gránulos tienen un compuesto hemostático que cuando entra en contacto con la sangre, se hinchan y se convierten en una especie de gel, pegándose y haciendo que se coagule la que toma contacto con el gránulo, parando la hemorragia. Tengo entendido que se quita fácilmente al lavar la herida con agua.
La forma de usarlo es echar los gránulos en la herida abierta y presionar con una gasa durante unos minutos. Así pararemos la hemorragia. Se sirve en paquetes de 15 y 35 gramos, siendo el paquete más grande la mejor relación calidad-precio.
Lo malo de este granulado es que, cuando hay mucho viento, no se puede aplicar correctamente. Para ello existe otro producto de la misma marca que permite verter el contenido en el interior de la herida. Se llama "Celox A".
Es como una especie de jeringuilla llena de este gránulo, pero hay que meterlo en el interior de la herida, con lo que debe doler una barbaridad, pero en esos momentos, ya se sabe.
4) PARCHE TORÁCICO
El parche torácico es, básicamente, un adhesivo que pegamos en el pecho cuando tenemos una herida penetrante que afecta a pulmones y pleura, bien sea por una herida de bala o de una puñalada. Este tipo de parche evita que, cuando inspiramos, se introduzca aire por la herida. Con esto, lo que se consigue es evitar que los pulmones se colapsen por efecto de la descompresión, asegurando la estabilidad del herido y dándole a éste un tiempo suficiente como para que lleguen los servicios de urgencia. Con este parche, lo que se pretende es evitar lo que se llama "neumotórax a tensión".
Según la web www.msdmanuals.com, la descripción de un neumotórax es la siguiente: "En un neumotórax ordinario, la lesión del pulmón permite que cierta cantidad de aire penetre en el espacio existente entre el pulmón y la pared torácica (espacio pleural). Típicamente, el aire deja de acumularse. Sin embargo, en el neumotórax a tensión, el aire continúa entrando en el espacio pleural conforme el paciente respira, con lo que aumenta la presión en el interior del tórax. El aumento de la presión reduce la cantidad de sangre que regresa al corazón debido a que la sangre no puede forzar su regreso al corazón según circula por el tórax. Como resultado, el corazón tiene menos sangre para bombear, lo que ocasiona un shock. (...) Un neumotórax a tensión puede causar la muerte de forma rápida." Creo que queda claro lo que podemos evitar si llevamos un parche de este tipo con nosotros.
El básico solamente es un adhesivo que se pone sobre la herida. Con éste hay que vigilar al herido por si se agobia y hay que despegárselo un poco durante unos segundos, volviéndoselo a poner bien, rápidamente.

Hay otros modelos que tienen una especie de canales o válvulas que permiten la salida del aire durante la exhalación, pero impide su entrada en la inspiración. Se suelen vender en pack de 2 parches, pero también existen paquetes individuales. El pack de 2 parches está bien, por si existe orificio de entrada y salida.
Cada parche suele llevar una pequeña venda que se usa para limpiar un poco la herida antes de ponerlo. El modo de uso es muy sencillo: se limpia la herida y se pone el centro del parche sobre ella. El adhesivo es de muy buena calidad y se pega sobre la piel, aunque tenga mucho pelo o esté sudada.
A mí, el que más me gusta es el "Hyfin Vent Chest", hecho por North American Rescue y que posee 3 canales para su mejor funcionamiento. Pero existen más marcas y modelos, para que todo el mundo elija el que más le convenga, como son el "Foxseal" de Celox, el "Halo" de PMI, etc.
5) VENDAJES
Los vendajes más comunes para heridas, suelen tener el tamaño estándar de 4 o 6 pulgadas de ancho. Ambos se pueden usar para cualquier parte del cuerpo pero, lógicamente, el tamaño menor se usaría para heridas pequeñas y el tamaño mayor para heridas más grandes o con mayor longitud.
Suelen venir en paquetes termosellados de plástico opaco grueso y al vacío, lo que le da mayor protección y durabilidad. Tienen fecha de caducidad y suele ser de unos 4 o 5 años.
Todos son vendajes elásticos y, al final de la venda, contienen un enganche de plástico para fijar el extremo final a la misma, lo que evita la necesidad de tener que llevar esparadrapo o algo para impedir que se desate. Estos paquetes vienen con instrucciones y con unos cortes predeterminados en las cuatro esquinas, cosa que facilita la apertura del paquete sin necesidad de estar buscando un único corte de apertura. Al principio de la venda hay un apósito que no se adhiere a la herida, lo que permite retirarlo con facilidad y sin crear más daños.
En vendajes, una de las marcas es North American Rescue. Posee una venda elástica que tiene unas pequeñas bandas internas de velcro, las cuales facilitan la adherencia para evitar que se destense. Si queremos hacer presión sobre la herida con esta venda, lo que tenemos que hacer es, después de haber dado 2 o 3 vueltas al vendaje, la giramos 180 grados, para crear una especie de "nudo" y, así, con éste hacer presión sobre la herida. Seguidamente, continuamos vendando hasta terminar.
Otro tipo de vendaje es el comúnmente llamado "Vendaje Israelí". Es el que más me gusta, ya que tiene varios modelos y es más fácil de encontrar. También es elástico y posee un enganche al final de la venda. Se caracteriza por tener una pieza de plástico, con la cual se puede generar bastante presión sobre la herida, lo que facilitará el corte del sangrado.
Hay modelos que poseen un apósito fijo y otro móvil, que son muy útiles para heridas con orificio de entrada y salida. Si tenemos ese modelo, podemos retirar el apósito móvil y usarlo como gasa extra, lo que puede venirnos muy bien en algún momento.
6) HERRAMIENTA MULTIUSO
Este es un utensilio que puede servir para cortar cinturones de seguridad de cualquier vehículo, para cortar calzado grueso y, por supuesto, ropa. Esto va bien porque, muchas veces, no se puede ver de donde viene la sangre y, por lo tanto, se desconoce la situación exacta de la herida. Despejando la zona de ropa, podremos encontrar la herida o heridas, ya que puede que haya más y no nos demos cuenta.
El utensilio debe estar construido de una manera que, a la hora de utilizarlo, no provoque heridas de ningún tipo a nadie. Por eso deberíamos desechar las típicas navajas, ya que, por accidente, podríamos herir a la persona o cortarnos nosotros mismos.
Algunos de estos cortadores llevan su propia funda que se puede acoplar al cinturón de servicio, lo cual es una ventaja, ya que siempre lo llevaremos encima. Existen de varios tipos y tamaños, por lo que nos da un abanico amplio para su elección. Muchos de ellos incorporan una punta, en el extremo opuesto, que permite romper cristales de vehículos. La marca Gerber parece ser la que mejor precio tiene.
Conclusión
Si quieres ver cómo se utilizan cada uno de los elementos que aquí se exponen, sólo tienen que ver los innumerables vídeos sobre ellos en "Youtube". Pero, por supuesto, antes de nada, lo más sensato es hacer algún curso donde te enseñen cómo se deben usar todos estos materiales correctamente y el conocimiento necesario de ellos. Así adquirirás capacidades que te serán de mucha utilidad.
Es importante recibir formación y si no la recibes, búscala por tu cuenta. Puede que algún día lo agradezcas.
Ejemplo de un Sangrado Arterial con potencial de mortalidad y tratable con Torniquete si es en Extremidades y Empaquetamiento en caso de ser en una localizacion en donde no sea posible el torniquete
Ahora para dar Cursos de Control de Sangrados "BCon" debes de estar registrado en el Coelgio Americano de Cirujanos, por medio de su Comite de Trauma y el programa Stop the Bleed
In September of 2014, NAEMT announced a new education course to teach civilians evidence-based, life-saving bleeding control techniques shown to dramatically increase casualty survival. Called "Bleeding Control for the Injured," aka "B-Con," this course was developed in response to the Hartford Consensus led by Dr. Lenworth Jacobs, and at the request of Dr. Norman McSwain, who served as a member of the Hartford Consensus working group.
B-Con teaches participants the basic life-saving medical interventions, including bleeding control with a tourniquet, bleeding control with gauze packs or topical hemostatic agents, and opening an airway to allow a casualty to breathe. The course is designed for NON tactical law enforcement officers, firefighters, security personnel, teachers and other civilians requiring this basic training. B-Con is consistent with the recommendations of the Hartford Consensus on Improving Survival from Active Shooter Events.
NAEMT partners on this and all other trauma initiatives with the American College of Surgeons (ACS). Recently, ACS launched a new website, bleedingcontrol.org that includes a new instructor portal for the B-Con course. This new portal houses all of the B-Con course materials, and will allow B-Con courses to be registered so that ACS and NAEMT can track our progress in training the public in basic bleeding control. There is no cost to use this portal, to access the course materials, or to register courses.
Es sin duda uno de los temas más controversiales del manejo inicial del trauma. La medicina militar nos entrega interesantes conclusiones.
La indicación de uso del torniquete ha sido el tema más controversial en el tratamiento de los primeros auxilios, pero el reciente uso de este dispositivo en la guerra ha tenido resultados muy favorables en términos de control de hemorragias y mayor sobrevivencia, con poco riesgos de morbilidad. El asunto más importante en referencia al uso del torniquete de emergencia es la decisión del cuándo usarlo. En otras palabras, ¿cuál es la indicación? Varios estudios ofrecen una mirada interna más allá de la experiencia clínica en la indicación de este dispositivo. En definitiva, los análisis han sido limitados.
Referente a esto, se ha completado un gran estudio clínico en un Hospital de Soporte al Combate en Baghdad, Iraq: "Análisis de las indicaciones para el uso del torniquete de emergencias" (1) Este inmenso trabajo de reporte, con nueva evidencia, nos permite tener una mirada fresca de este controversial dispositivo de primeros auxilios. Los proponentes del TCCC (Táctical Combat Casualty Care) abogan que la indicación de uso del torniquete es: "Cualquier herida en extremidad, que pudiese producir una hemorragia posiblemente letal". De cualquier forma, no había existido ningún dato que evidenciara esta premisa. El propósito del estudio fue analizar las indicaciones del torniquete.
Métodos: Los datos sobre uso del torniquete de emergencia se analizaron a partir de un estudio clínico a gran escala (en ClinicalTrials.gov NCT00517166). Este estudio fue conducido bajo protocolo revisado y aprobado por un instituto del Ejército de los EEUU (Brooke Army Medical Center Institutional Review Board).
El estudio incluyó a 728 víctimas con 953 extremidades en las que se usó torniquetes. La edad promedio de las víctima fue de 26 años (con rango, 4-70).
Resultados: El uso del torniquete fue de 70% en el prehospitalario , 11% en el intrahospitalario y 18% en ambos.
Las lesiones en que se indicó torniquete, fueron de dos tipos: Anatómicas y Situacionales.
– Anatómicas: Las indicaciones anatómicas son lesiones de tejidos blandos con sangramiento de extremidades con riesgo vital, tales como: herida por arma de fuego con sección de arteria femoral, amputaciones, fracturas expuestas, etc. Definidas médicamente y que pueden ser confirmadas quirúrgicamente.
– Situacionales: son situaciones en las cuales se escogió el uso del torniquete como el mejor tratamiento, por otras razones que no fueron la herida misma. (por ej. en la fase de cuidados bajo fuego enemigo en el campo de batalla) y son definidas y determinadas por el rescatista.
Conclusión: El principal hallazgo de este estudio fue que es correcto utilizar como indicación para el uso del torniquete la frase: "Cualquier herida en extremidad, que pudiese producir una hemorragia posiblemente letal".
Con este set de datos de indicaciones de uso del torniquete se llenó el vacío de conocimiento en referencia a la frecuencia de varias indicaciones.
Posteriormente se recibe información a través de un nuevo reporte publicado como "Sobrevivencia de heridos en combate con el uso del torniquete de emergencia para detener el sangrado de extremidades" (2) cuyo objetivo fue "analizar con mayor profundidad el uso del torniquete de emergencia en los cuidados de heridos en combate". Este reporte es una continuación del estudio previo (NCT00517166 en ClinicalTrials.gov).
Métodos: Tras la verificación de las metodologías para el primer estudio y el siguiente, se compararon los resultados de estos dos períodos de tiempo. Luego se agruparon los datos para analizar los resultados con una muestra de mayor tamaño.
Resultados:
– La población total abarcada por el estudio fue de 499. En todos, 862 torniquetes fueron aplicados en 651 extremidades. La sobrevivencia fue de 87% para ambos periodos de estudio.
– Las tasas de parálisis a nivel del torniquete fue de 1,7% para el estudio 1 y 1,5% para el estudio 2.
– La sobrevida aumentó con el uso prehospitalario (89% vs 78% hospitalaria, p < 0.01) y la aplicación previa al desarrollo del shock.
Conclusión: Este segundo estudio demuestra beneficios consistentes y bajo riesgo en el uso de torniquetes para detener hemorragias masivas en trauma de extremidades.
Otro reporte (US Army ISR) hace referencia a que:
– El uso del torniquete, previo al estado de shock, estuvo fuertemente asociado con las vidas salvadas.
– No se perdieron extremidades debido al uso del torniquete
– La educación y puesta en servicio del torniquete en el ámbito militar, debe continuar.
Comentarios
Estas indicaciones han demostrado buenos resultados sólo cuando la formación ha sido específica y actualizada, se han utilizado los dispositivos adecuados y la evacuación ha sido rápida y oportuna.
Dispositivos adecuados
Un punto fundamental en el avance y evolución de los dispositivos adecuados, ha sido la transición desde el improvisado cordón de zapato o venda enrollada con un "palito" hasta el actual CAT (Combat Application Torniquet/ Torniquete de Aplicación en Combate).
Este es un dispositivo diseñado para uso militar, que ha revolucionado los cuidados médicos en el campo de batalla. Es muy liviano, de fácil aplicación e incluso posee la particularidad de poder ser utilizado por el mismo herido. Todas estas virtudes cobran vital importancia, y bien digo ???vital???, durante los enfrentamientos, donde una de las tres causas principales de muertes prevenibles es la hemorragia incontrolada (Las otras dos son neumotórax y obstrucción de la vía aérea).
Es tal la confianza que las Fuerzas Armadas han depositado en este instrumento, que se ha dispuesto que cada soldado desplegado en zona de combate, debe transportarlo en su equipo individual de Primeros Auxilios.
En los recientes conflictos en Iraq y Afghanistan, no solo personal militar lo ha utilizado. Han sido incalculables los Operadores de Seguridad Privada (Private Security Contractors), que han logrado salvar sus vidas gracias al entrenamiento en el uso del CAT. Todos y cada uno de los integrantes de estos equipos transporta al menos 2 y es responsabilidad del Medic del equipo instruir a sus compañeros en el uso adecuado de este. Ha sido tal el interés y confianza depositado en el uso del torniquete, que incluso se han diseñado uniformes que lo traen incorporados, uno en cada extremidad, discretamente disimulados bajos unos pliegues adheridos con velcro.
Y finalmente debo mencionar que como todo avance médico en el terreno militar, rápidamente se traslada al área civil, el CAT ya está siendo utilizado por varios Sistemas de Emergencias Médicas en los EEUU.
En el contexto actual de nuestras realidades sociales, donde estamos expuestos a catástrofes naturales o accidentes masivos, este elemento nos podría prestar una ayuda invaluable al momento de tratar múltiples heridos, donde la sola contención de una hemorragia nos puede entregar minutos valiosos para multiplicar nuestros esfuerzos en salvar la mayor cantidad de vidas posibles.
Tal vez es tiempo que empecemos a mirar con más respeto este dispositivo, ya que lo podríamos necesitar.
NCT00517166 AT ClinicalTrials.gov
The Hartford Consensus IV: A Call for Increased National Resilience
The Hartford Consensus IV: A Call for Increased National Resilience
Joint Committee to Create a National Policy to Enhance Survivability from Intentional Mass Casualty and Active Shooter Events
Participants
American College of Surgeons Releases Hartford Consensus Compendium
The September 2015 American College of Surgeons Bulletin is devoted to active shooter and intentional MCI preparedness and response. Entitled "Strategies to Enhance Survival in Active Shooter and Intentional Mass Casualty Events: A Compendium," this 92-page document should be downloaded, distributed and read by all EMS managers, supervisors, manufacturers and providers because it illustrates best practices, equipment needs and benefits, and tactical approaches that EMS, fire and law enforcement agencies need to focus on.
Blood gushes from virtual leg injury to help train combat medics
Fittingly, the American College of Surgeons, through an introduction by Hartford Consensus Chairman Lenworth M. Jacobs, Jr., MD, MPH, FACS, dedicated this epic document to Norman McSwain, MD, who recently passed away. I paraphrase Dr. Jacobs dedication message here:
Immediately following the active shooter disaster at the Sandy Hook Elementary School in Newtown, CT, Dr. Norman McSwain agreed to be a founding member of the Joint Committee to Develop a National Policy to Increase Survival from Active Shooter and Intentional Mass Casualty Events. Dr. McSwain brought the dedication, passion, and intellect for which he was famous to the Hartford Consensus deliberations.

He fiercely advocated for an organized coordinated prehospital response that incorporated hemorrhage control by immediate bystander responders, a change in focus of the mission of law enforcement to include immediate stopping of life-threatening hemorrhage of victims, and an urgent response by emergency medical personnel to treat and transport trauma patients to the appropriate trauma hospitals. He recognized that time was a critical factor for patients who had massive bleeding.
Dr. McSwain has had a lifelong commitment to improving the care of trauma patients. He personally cared for thousands of trauma patients irrespective of who they were and what their station in life was. His dedication and commitment to the education of prehospital personnel was exemplified by the creation of the Prehospital Trauma Life Support course which has been taught to more than a million students in more than 60 countries. These principles have also been embraced by the military in the Tactical Combat Casualty Care courses.

Through this work, his commitment to excellent prehospital care has been given to millions of trauma patients worldwide. Throughout his career Dr. McSwain was been honored by the American College of Surgeons Committee on Trauma and numerous other professional organizations. However, it was his personal commitment to excellent individual care of the patient, his personal example of the compassionate trauma surgeon, and his kind, caring desire to help people from all walks of life that will always be remembered.

He was a good friend, an excellent person, and an example for all of us that will be forever captured by his greeting to everyone: "What have you done for the good of mankind today?" May he rest in peace.
Please DOWNLOAD and distribute this important document to your friends and colleagues.
American College of Surgeons "Hartford Consensus Compendium" Logo
One-handed tourniquet application and immediate responder hemorrhage control
PHTLS B-Con Bleeding Control for the Injured Course
Hartford Consensus III
Download the B-Con presentation y PDF (English)
Curso Control de Sangrados en el Herido de PHTLS y NAEMT
Bleedin Control Course B-Con PHTLS and NAEMT
Hartford Consensus III
Hartford Consensus III participants. Seated, left to right: Drs. McSwain, Warshaw, Jacobs, Woodson, Brinsfield, and Levy; and Mr. Elliott. Standing left to right: Dr. Rhee, Mr. Mitchell, Drs. Eastman, Conn, O'Connor, Stewart, Butler, Burns, Weireter, Hunt, Holcomb, and Fabbri; and Commander Anderson.
The Hartford Consensus III: Implementation of Bleeding Control
Professional first responders
Building educational capabilities
Roundtable on bystanders: Our nation's immediate responders
Air Medical Physician Association

American Academy of Physician Assistants

American Ambulance Association

American Association of Critical Care Nurses

American Association for the Surgery of Trauma

American College of Emergency Physicians

American College of Surgeons

American Heart Association

American Hospital Association

American Nurses Association

American Osteopathic Association

American Physical Therapy Association

American Public Health Association

American Trauma Society

Association of Air Medical Services

Association of State and Territorial Health Officials

Eastern Association for the Surgery of Trauma

Emergency Nurses Association

Emergency Medical Services Labor Alliance

International Academies of Emergency Dispatch

International Association of Chiefs of Police

International Association of Emergency Managers

International Association of Emergency Medical Services Chiefs

International Association of Firefighters

International Association of Fire Chiefs

Major Cities Chiefs Association

National Association of Emergency Medical Technicians

National Association of School Nurses

National Association of State EMS Officials

National Athletic Trainers Association

National Emergency Management Association

National Volunteer Fire Council

Society of Emergency Medicine Physician Assistants

Society of Trauma Nurses

Trauma Center Association of America

White House personnel

Interagency Bystander Workgroup team leaders

Federal invitees
The Bleeding Control for the Injured (B-Con) course was developed by NAEMT's PHTLS Committee with leadership provided by Dr. Peter Pons and Dr. Norman McSwain.
The course was developed in response to efforts by the U.S. Departments of Homeland Security and Health and Human Services to increase collaboration between law enforcement, the fire service and EMS in responding to active shooter/IED/mass casualty events. B-Con is consistent with the recommendations of the Hartford Consensus on Improving Survival from Active Shooter Events. The Hartford Consensus recommends that an integrated active shooter response should include the critical actions contained in the acronym THREAT: 1.Threat
2.Hemorrhage control
3.Rapid Extrication to safety
4.Assessment by medical providers
5.Transport to definitive care
The Hartford Consensus Group recommends that the response to a traumatic incident, whether involving an active shooter or some other cause of injury, in fact begins with bystander response. It is with this in mind that the B-Con course was developed and is now being offered.
This new 2 ½ hour course teaches participants the basic life-saving medical interventions, including bleeding control with a tourniquet, bleeding control with gauze packs or topical hemostatic agents, and opening an airway to allow a casualty to breathe. The course is designed for NON tactical law enforcement officers, firefighters, security personnel, teachers and other civilians requiring this basic training. Course materials include a PowerPoint presentation and instructor notes, instructor's guide, and skill station guide.
A separate, additional PowerPoint module is included in the course materials specifically for law enforcement participants. This module provides an orientation to the content of the Hartford Consensus and the changing approach to active shooter and other complex and hazardous responses.
At the completion of the course, participants will be able to:
•Explain the rationale for early use of a tourniquet for life-threatening extremity bleeding.
•Demonstrate the appropriate application of a tourniquet to the arm and leg.
•Describe the progressive strategy for controlling hemorrhage.
•Describe appropriate airway control techniques and devices.
•Demonstrate the correct application of a topical hemostatic dressing (combat gauze).
STOP THE BLEED
Control de Sangrados para el Herido By NAEMT. The Hartford Consensus III
Control de Sangrados para el Herido By NAEMT.
Los torniquetes se deben utilizar solamente como último recurso.
232 pacientes

428 torniquetes aplicados

El torniquete CAT fue aplicado un 79% de las veces

No se apreciaron lesiones causadas por su aplicación (necrosis, fallo renal, amputaciones, necesidad de fasciotomia)

No se realizó una sola amputación debido al uso del torniquete
La colocación de un torniquete es igual a la pérdida de la extremidad.
Los cinturones son el mejor torniquete.
Los torniquetes improvisados constituyen equipación médica adecuada.
Este es el mejor torniquete.
T-H-R-E-A-T (THREAT) B-Con PHTLS
Hartford Consensus III
PHTLS B-Con Bleeding Control for the Injured Course / Control de Sangrados para el Herido By NAEMT
Español
Mejorando la supervivencia en Incidentes con Tiradores Activos (B-Con Course) Curso Control de Sangrados en el Herido
(Active Shooter Events): El Consenso Hartford
Comité Conjunto para Crear una Política Nacional para Mejorar la Supervivencia en
Incidentes De Múltiples Víctimas en Tiroteos
Hartford, CT 2 de Abril de 2013
Dr. Lenworth Jacobs, Hartford Hospital, Board of Regents, American College of Surgeons
Dr. Norman McSwain, Medical Director, Prehospital Trauma Life Support
Dr. Michael Rotondo, Chair, American College of Surgeons Committee on Trauma
Dr. David Wade, Chief Medical Officer, FBI
Dr. William Fabbri, Medical Director, Emergency Medical Support Program, FBI
Dr. Alexander Eastman, Major Cities Chiefs Association (Lt. Dallas Police Department)
Dr. Frank Butler, Chairman, Committee on Tactical Combat Casualty Care
John Sinclair, International Director and Immediate Past Chair International Association of Fire Chiefs- EMS Section (Fire Chief, Kittitas Valley Fire and Rescue)
Introducción
Los recientes sucesos de múltiples víctimas en tiroteos ocurridos en América han tenido un
profundo efecto en todos los sectores de la sociedad. Las comunidades médicas, de las
Fuerzas de Seguridad, de rescate/bomberos y de los SEM han sentido la necesidad de dar
respuestas. Es importante que estos esfuerzos se realicen de manera coordinada para crear
políticas que puedan mejorar la supervivencia de las víctimas producidas en estos
incidentes. Tales políticas deben proporcionar una aproximación sincronizada entre las
múltiples agencias que se encuentre inmediatamente disponible para las comunidades
afectadas por dichas tragedias.
El Colegio Americano de Cirujanos y el Federal Bureau of Investigation (FBI) han
colaborado conjuntamente para proporcionar altos representantes de todas las disciplinas
anteriormente mencionadas, para elaborar un documento que estimule el debate y en última
instancia conduzca a estrategias para mejorar la supervivencia de las víctimas. La
conferencia de un día de duración, el 2 de Abril de 2013 en Hartford, Connecticut, recibió
contribuciones de expertos médicos, de las Fuerzas de Seguridad, de
bomberos/rescatadores, de primeros intervinientes del SEM y de militares. La conferencia
consistió en actualizaciones de datos y evidencias extraídos de experiencias civiles y
militares recientes y, fue sensible al papel desempeñado por múltiples agencias que
participaron en incidentes de múltiples víctimas por tiroteo. La reunión, conocida como
Conferencia del Consenso Hartford (Hartford Consensus Conference), generó un
documento conceptual titulado "Mejora de la Supervivencia en Incidentes de Tiradores
Activos" ("Improving Survival from Active Shooter Events.") El propósito de este
documento es promover las políticas locales, estatales y nacionales para mejorar la
supervivencia en estas situaciones poco comunes, pero terroríficas. Este ensayo corto
describe métodos para minimizar la pérdida de vidas humanas en estos terribles incidentes.
Planteamiento del Problema
Los incidentes de tiradores activos/múltiples víctimas son una realidad en la vida actual
americana. A medida que nuestra experiencia en este tipo de eventos se va acumulando, va
quedando claro que las respuestas tradicionales por parte de las Fuerzas de Seguridad,
bomberos/rescatadores y SEM no están adecuadamente alineadas para maximizar la
supervivencia de las víctimas.
Control Precoz de la Hemorragia para Mejorar la Supervivencia
Históricamente, la respuesta a los tiroteos ha consistido en una operación segmentada y
secuencial de seguridad pública, con la priorización de la seguridad como uno de los
objetivos de las Fuerzas de Seguridad (detener el tiroteo), seguido por el resto de medidas
de respuesta y recuperación. A medida que evolucionamos, las acciones iniciales para el
control de la hemorragia deben formar parte de la respuesta de las Fuerzas de Seguridad y,
los conocimientos para el control de la hemorragia, tienen que ser una parte central de sus
habilidades. Maximizar la supervivencia implica un sistema actualizado e integrado que
pueda alcanzar múltiples objetivos de forma simultánea.
Las lesiones de riesgo vital en incidentes con tiradores activos, como los producidos en Fort
Hood, Tucson y en Aurora, son similares a las que nos podemos encontrar en combate. La
experiencia militar nos ha enseñado que la causa principal de muerte evitable en una
víctima con trauma penetrante es la hemorragia. Los programas Tactical Combat Casualty
Care (TCCC), cuando son implementados con un apoyo sólido de los jefes, han producido
una reducción drástica de las muertes evitables. Reconociendo que los incidentes con
tiradores activos pueden ocurrir en cualquier comunidad, el Consenso Hartford anima al uso
de las técnicas y equipos existentes, validados por más de una década de evidencia clínica
bien documentada.
El Consenso Hartford recomienda que una respuesta integrada para tirador activo debe
incluir las acciones críticas contenidas en el acrónimo THREAT:
1. Eliminar la amenaza (Threat suppression)
2. Control del la Hemorragia (Hemorrhage control)
3. Extracción Rápida a zona segura (Rapid Extrication to safety)
4. Evaluación por personal sanitario (Assessment by medical providers)
5. Traslado para el tratamiento definitivo (Transport to definitive care)
Mientras que algunos pueden considerar añadir habilidades para el control de la hemorragia
como otro requisito en la formación en tiempos de recursos económicos limitados, los
conceptos son simples, probados y relativamente económicos; ya han sido adoptadas como
la mejor práctica por muchas agencias de las fuerzas de seguridad. La mejor forma de
controlar la hemorragia exanguinante por lesiones en extremidades se consigue mediante el
uso de torniquetes, mientras que la mejor forma de controlar la hemorragia interna
producida por heridas penetrantes en el tórax y el tronco se consigue mediante el traslado
rápido al hospital. Una respuesta óptima a un suceso con tirador activo incluye la
identificación y la enseñanza de conjuntos de habilidades apropiados a cada nivel de
respuesta, sin tener en cuenta la afiliación de las Fuerzas de Seguridad o de los
bomberos/rescatadores/SEM. El algoritmo THREAT incorpora los conceptos probados de
autoayuda y de ayuda por el compañero (self-care and buddy-care).
Respuesta Integrada
La asistencia a las víctimas es una responsabilidad compartida por las Fuerzas de
Seguridad, bomberos/rescatadores, y SEM. Los resultados óptimos dependen de la
comunicación entre el personal de seguridad pública. La respuesta a un incidente con
tirador activo es un proceso que requiere la coordinación entre las Fuerzas de Seguridad y el
personal sanitario/de evacuación. Dicha coordinación incluye:
 Definiciones compartidas de términos empleados en incidentes con heridos en
tiroteos.
 Desarrollo conjunto de protocolos locales para la respuesta a incidentes con
tiradores activos.
 Prioridad de la inclusión de incidentes con tiradores activos en el entrenamiento y
simulacros para mejorar la familiarización con los protocolos conjuntos
desarrollados.
Conclusión
El Consenso Hartford busca mejorar la supervivencia en los incidentes con tiradores
activos. El uso del algoritmo THREAT y una mejor respuesta integrada por parte de las
Fuerzas de Seguridad, bombeos/rescatadores y SEM, ofrecen a las comunidades un
mecanismo para minimizar la pérdida de vidas humanas en estos incidentes.
La Asociación Nacional de Técnicos de Emergencias Médicas (NAEMT) anunció la publicación de un curso para enseñar al personal civil las mismas técnicas de control de sangrados aprendidas en Iraq y
Afganistán
que han demostrado aumentar la super
vivencia
a lesiones mortalmente peligrosas. El curso "Bleeding Control for the Injured", o mejor conocido como B-Con, está
basado en la evidencia más actualizada de cómo atender una persona severamente herida.